KOYO tapered roller bearings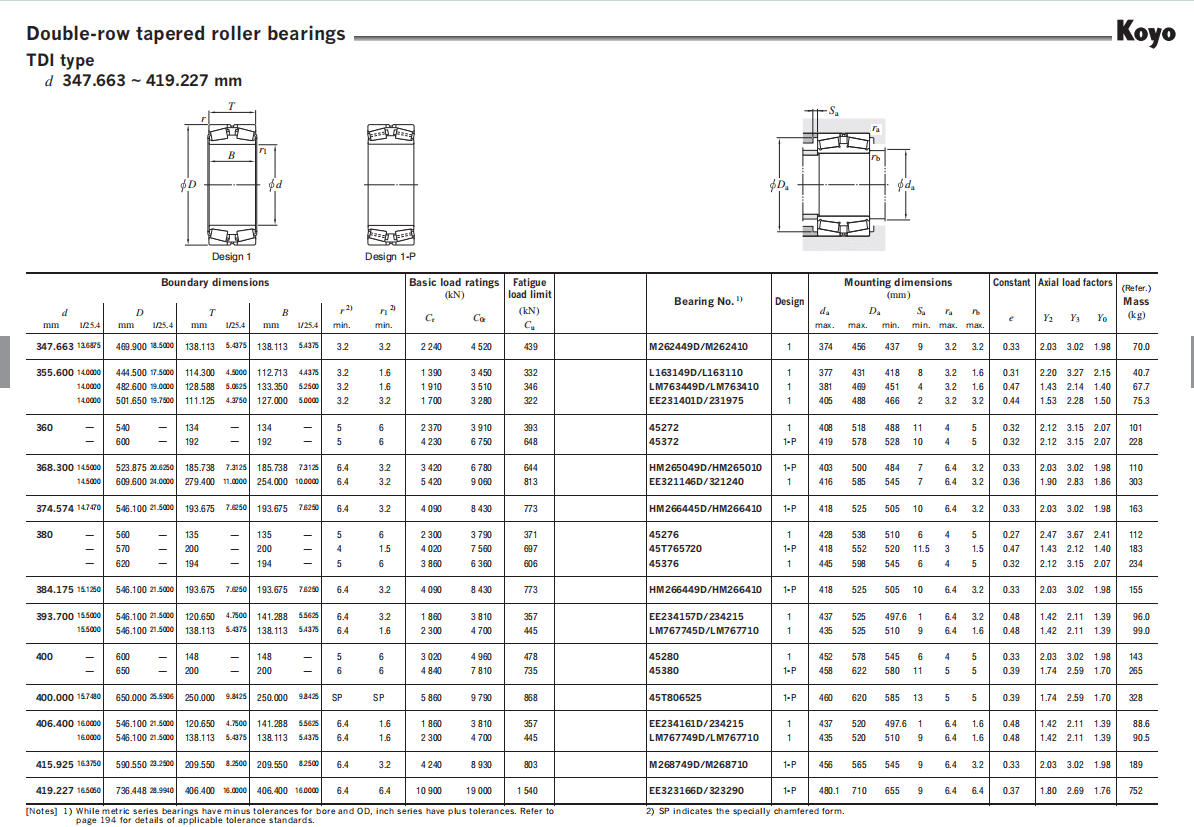 Bearing No. 1)

Design

da

max.

Mounting dimensions

(mm)

Da                      Sa           ra

max.      min.     min.    max.

rb     max.

Constant

e

Axial load factors

Y2           Y3           Y0

(Refer.)

Mass

(kg)

M262449D/M262410
1
374
456
437
9
3.2
3.2
0.33
2.03
3.02
1.98
70.0
L163149D/L163110

LM763449D/LM763410

EE231401D/231975

1

1

1

377

381

405

431

469

488

418

451

466

8

4

2

3.2

3.2

3.2

1.6

1.6

3.2

0.31

0.47

0.44

2.20

1.43

1.53

3.27

2.14

2.28

2.15

1.40

1.50

40.7

67.7

75.3

45272

45372

1

1-P

408

419

518

578

488

528

11

10

4

4

5

5

0.32

0.32

2.12

2.12

3.15

3.15

2.07

2.07

101

228

HM265049D/HM265010

EE321146D/321240

1-P

1

403

416

500

585

484

545

7

7

6.4

6.4

3.2

3.2

0.33

0.36

2.03

1.90

3.02

2.83

1.98

1.86

110

303

HM266445D/HM266410
1-P
418
525
505
10
6.4
3.2
0.33
2.03
3.02
1.98
163
45276

45T765720

45376

1

1-P

1

428

418

445

538

552

598

510

520

545

6

11.5

6

4

3

4

5

1.5

5

0.27

0.47

0.32

2.47

1.43

2.12

3.67

2.12

3.15

2.41

1.40

2.07

112

183

234

HM266449D/HM266410
1-P
418
525
505
10
6.4
3.2
0.33
2.03
3.02
1.98
155
EE234157D/234215

LM767745D/LM767710

1

1

437

435

525

525

497.6

510

1

9

6.4

6.4

3.2

1.6

0.48

0.48

1.42

1.42

2.11

2.11

1.39

1.39

96.0

99.0

45280

45380

1

1-P

452

458

578

622

545

580

6

11

4

5

5

5

0.33

0.39

2.03

1.74

3.02

2.59

1.98

1.70

143

265

45T806525
1-P
460
620
585
13
5
5
0.39
1.74
2.59
1.70
328
EE234161D/234215

LM767749D/LM767710

1

1

437

435

520

520

497.6

510

1

9

6.4

6.4

1.6

1.6

0.48

0.48

1.42

1.42

2.11

2.11

1.39

1.39

88.6

90.5

M268749D/M268710
1-P
456
565
545
9
6.4
3.2
0.33
2.03
3.02
1.98
189
EE323166D/323290
1-P
480.1
710
655
9
6.4
6.4
0.37
1.80
2.69
1.76
752

You can get competitive price from our company. More information, please contact us  E-mail:sale@adyrbearing.comADYR Bearing Co.,Limited. has been engaged in bearing industry for many years, we provide a wide selections of brands including FAG bearing, FAG bearing, FAG bearing, NTN bearings, SKF bearings, deep groove ball bearings, cylindrical roller bearings, tapered roller bearings, self-aligning ball bearings,thrust ball bearings, rolling mill
bearings, spherical roller thrust bearings, spherical bearings, adapter sleeves, withdrawal sleeves, lock nut, lock washer,locking device, etc. We can provide bearing and non-standard bearings, linear bearings, automotive bearings, large bearings, railway bearings, spherical plain bearings, high temperature, super-precision bearings, as well as some rare types customized to your need.Middle East and Southeast Asia.Our goal is to exceed our customers' expectation in providing quality products and continue to improve the services we
provide on a timely manner.Please view the products at our website that we can supply. You can also contact our sales representative to request a
price quotation on the products that you are looking for that may not been shown on our website.